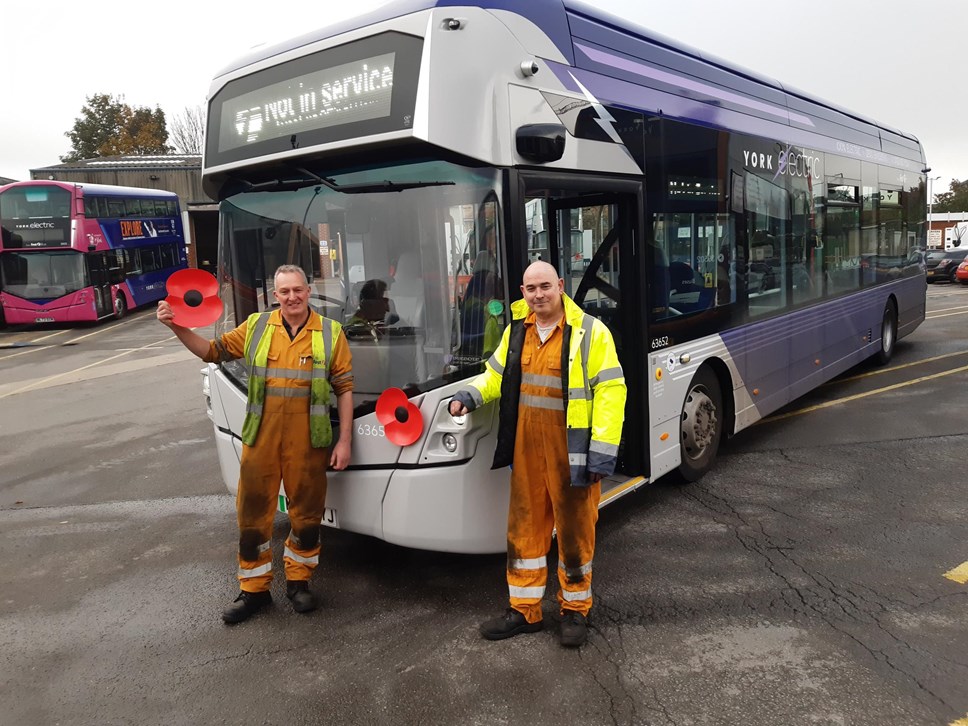 First Bus fleet to 'wear' poppies with £3,000 donation to appeal in the region
First Bus fleet in York supports Poppy Appeal
Free travel to Remembrance events for serving Armed Forces, cadets and veterans
The First Bus fleet in York will be 'wearing' giant poppies in the lead up to the weekend of Remembrance on Armistice Day (Saturday 11) and Remembrance Sunday (12 November).
The bus operator on the North & West Yorkshire region has donated £3,000 to the appeal and is arranging for 300 buses including 50 in York to carry the famous emblem of the Royal British Legion annual fundraising campaign to support veterans and their families.
Tina Pringle , Poppy Appeal Manager for the Royal British Legion in North Yorkshire, said: "We are very grateful for the support of First Bus for our 2023 Poppy Appeal.
"All funds raised from the Poppy Appeal are used by the RBL to support veterans and their families, from help with the cost of living, employment and housing, to support with recovery after trauma or illness."
First Bus is also enabling serving Armed Forces personnel, cadets and veterans to travel for free to events commemorating Armistice Day on Saturday 11 and Remembrance Sunday on 12 November.
All current and former members of the military and cadets need to do is show the driver their Armed Forces ID or wear their medals or uniform.
If safe to do so, First Bus drivers will be allowed to pull over at 11:00 on both days to observe the two minutes' silence.
Tom Donnelly, Operations Manager at the York depot, said: "We have a number of colleagues who have served in the military or have friends and family connections so this is always a poignant time of the year.
"We hope free travel on our services will make it as easy as possible for as many veterans, serving personnel and cadets to attend Remembrance services and events in the region. The patience of customers in helping our drivers to pay their respects is much appreciated."
Tina Pringle added: "We want to encourage as many people as possible to get a poppy this year and show their gratitude and support to those in the Armed Forces whose service and sacrifice should never be forgotten.
"We're so proud that this year, we have our new plastic-free poppy too, so that the public can wear this poignant symbol of Remembrance, with less impact on the environment."
Picture caption: York engineers John (left) and Brian help to fit giant poppies to the electric bus fleet.
Ends